Maximize your solar yield and have solar on demand.

Increased Solar Capacity
The SunFlex solar energy storage system is optimized for maximum solar capture and delivery, enabling solar facilities to sell up to 50% more solar energy per site. The system eliminates solar variability across the day – such as that caused by passing clouds – and expands the delivery of energy into the night, creating an on-demand solar resource. The higher power conversion efficiencies of our system mean more energy delivered and better project economics.
Simplifies Site Design
The SunFlex solar energy storage architecture enables developers to add more solar panels without the cost of changing their interconnection. In many areas, the system also simplifies the interconnection process for combined solar and storage facilities.
Expanded Capability
The inherent flexibility of the SunFlex system expands the capabilities and sources of revenue for solar generation by providing the ability to stack additional grid services, such as frequency regulation, capacity firming, and ramp rate control.
PROPERTIES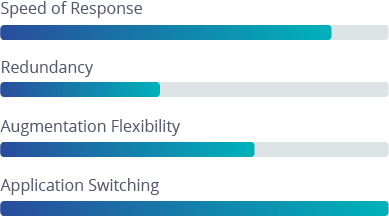 FEATURES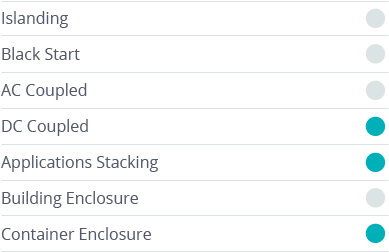 POWER
2 MW – 100+ MW
ENERGY
2+ hours
ARCHITECTURE
The SunFlex architecture unites the batteries and PV on the same side of the DC bus in order to take advantage of higher PV-to-inverter ratios and maximize solar yield. The energy storage is distributed throughout the solar field, sited with the inverters, in order to optimally connect into solar arrays. DC-to-DC conversion on the storage allows the DC bus voltage to flexibly move, preserving maximum power point tracking on the solar.
CONTROLS
Building on Fluence's history of creating flexible and robust control platforms, SunFlex comes equipped with a comprehensive control solution that includes application algorithms optimized to seamlessly integrate renewables.
STANDARDS AND CONFORMITY
Inverter safety: UL1741
Lithium battery safety: UL1642
Battery module safety: UL1973
Power conversion harmonics: IEEE519
Interconnection of distributed resources: IEEE1547
Download the SunFlex Tech Spec
Meet SunFlex Energy Storage, designed for solar + storage.
This tech spec includes:
An overview of the SunFlex platform
Details on the SunFlex system specifications, PV interface, and battery specifications
Download Now
Choose the right partner.
In today's fragmented energy storage market, choosing the right partner is critical to your success. The Fluence team brings a deep understanding of the complexities of modern power markets, customer needs, and local market challenges. We are here to collaborate with you to solve the energy challenges in your network.
Get started today.
Find your perfect fit.