Your critical equipment is protected when you've got lightning fast energy on demand.
Ultra Fast
The Siestorage system is designed for essential fast response for power quality, black start, frequency response, and backup applications.
Grid Support Capability
Siestorage can be configured to provide grid support services and be grid forming, enabling customers to operate in island mode when the network becomes unavailable.
Grid-forming parallel operation is compatible with wind, solar, and diesel generation.
Embedded Experience
Our deep experience from years of serving customers in the power sector is embedded in the Siestorage architecture to deliver best in class performance.
PROPERTIES
FEATURE
POWER
2 MW – 100+ MW
ENERGY
20 minutes – 2 hours
ARCHITECTURE
The Siestorage architecture includes closed-loop controls and pulse modulation for the power semiconductors that enable extremely rapid response times needed for microgrid and critical power applications.
CONTROLS
Real-time data and control system delivers fast control of voltage, current, frequency and power.
Complete with HMI, data acquisition, data trend analysis, and historian services. System control can be accomplished through onsite HMI, remote HMI, or integration with external energy management system.
STANDARDS AND CONFORMITY
Conformity: (LV-D 2006/95/EG) CE

System standard converter system: EN 61439

System standard batteries: EN 50178, EN 50272-2

EMC immunity system: EN 61000-6-2

EMC emission system: EN 61000-6-4

Degree of protection: (EN 60529) IP20

Protection class: (EN 61140) 1
Download the Siestorage® Tech Spec
Lightning fast energy. Trusted for critical loads.
This tech spec includes:
An overview of the Siestorage platform
Details on the Siestorage system and battery specifications
Download Now
Choose the right partner.
In today's fragmented energy storage market, choosing the right partner is critical to your success. The Fluence team brings a deep understanding of the complexities of modern power markets, customer needs, and local market challenges. We are here to collaborate with you to solve the energy challenges in your network.
Get started today.
Find your perfect fit.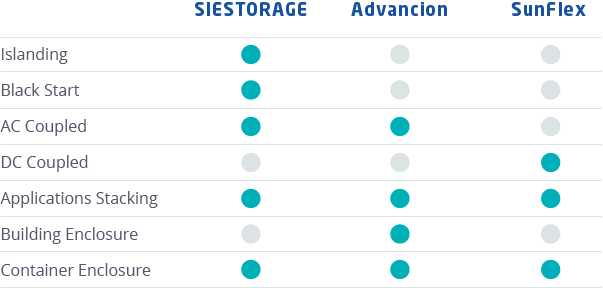 Fluence tops Navigant's energy storage leaderboard.
Navigant Research named Fluence the leading energy storage system integrator.